The one-day exhibition S.P. (Special Preview): 2011 Weather Reports took place Sunday February 26th at Flux Factory, gathering recently completed editions and works-in-progress from the twelve artists and artist-collaborations who created new work for the 2011 installment of this ongoing publications series.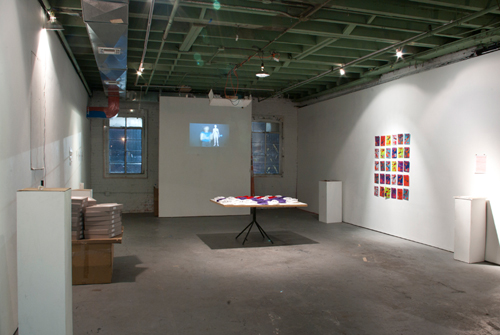 Each year since 2008, SPWS has invited 12 artists to 'report' on the weather for each month of data taken by its weather instruments located on the Flux Factory rooftop.  The participating artists produce these reports in an edition of 30, and SPWS collates them into archival portfolio boxes with a standard format.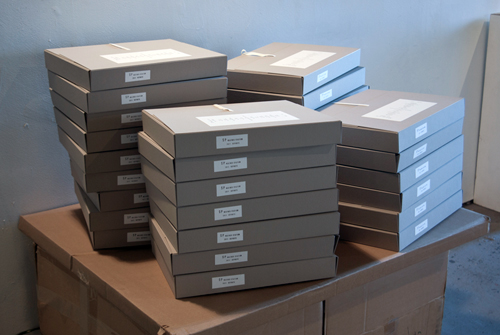 Previewing works before assembling the portfolios gave us a unique opportunity to see variable editions all together as an unbroken set that will never exist again in the same way: for example, Michelle Rosenberg and Howard Huang's Visor Calendar, where each hat is associated with the conditions on a different day of June, and Hope Ginsburg's report Toy Sponge Divers with July High Temperature Data, which records SPWS's daily readings on colorful felt cutouts of a scuba diver, referencing Ginsburg's upcoming research trip to study sea sponges off the coast of Belize.  A stack of crayon line drawings on ruled notebook paper by eteam, No day without weather, mischievously plays with the notion of data-driven art while creating a concrete stand-in for the month of August.
Works were installed around the gallery in calendar order, and we spoke to some of the artists in an informal walkthrough.  We will continue to profile participating artists and their work over the next month and plan to announce the completed portfolios in late March.  More after the jump…
For January, Colin McMullan – as Emcee C.M. Master of None – explained how his work The land gives us all we need to survive was a response to this winter month as a time for canning, preserving, and stockpiling calories — cold weather as it is linked to human behavior and routines.  His seven-color booklet / fold-out broadside was letterpress printed with handset lead type and woodcut images made using an intricate hand-carved six-sided block.  Printed during his residency at the Center for Book Arts, the book and printing block will be exhibited at CBA beginning on April 18th.
Glen Einbinder researched weather folklore to create a set of six cards that represent our average weather conditions in February as they might have appeared to a trained observer in a more-pastoral LIC: for example, a predominantly north-northwestern wind indicated by cows facing away (south-southeast); above-average barometric pressure concentrating coffee bubbles in the center of a cup; 80% humidity indicated by the closed petals of a bog pimpernel.
Meteorology meets TMI (Too Much Information) in a funny and somewhat discomforting Health Report for My Mother, April 2011 video, produced and performed by Naomi Miller at the beginning of her residency at the Macdowell Colony this month.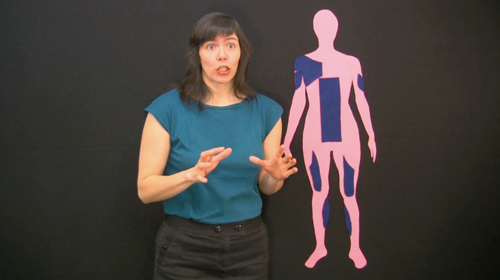 For September, Paul Kennedy, currently a resident at Yaddo, contributed prints of two double-page spreads from the late 19th century weather diaries of East Tennessee farmer John Davault.  The images were taken as part of a research-intensive body of work featuring Kennedy's large-format photographs, to be exhibited at the Reece Museum at East Tennessee State University in 2013.
October, a newsprint poster by Adrienne Garbini, cryptically juxtaposes phrases referring to the "object of time" and time as an object of value or use with a photograph of a withered Christmas cactus.
For November, Travis LeRoy Southworth created Sunspots, a continuation of his ongoing Detouch series in which he inverts the practice of his professional work as a photo retoucher, compiling images from all of the details he has excised from his portraits.  Scaled to the average size of a human face, the resulting composition of skin blemishes known as 'sunspots' equally references cosmic 'sun spots' viewed through a telescope.
Everyday detritus gives a glimpse of the infinite in a black-mirrored vial produced by Rick Myers using residue collected from the rooftop near SPWS instruments in the month of December.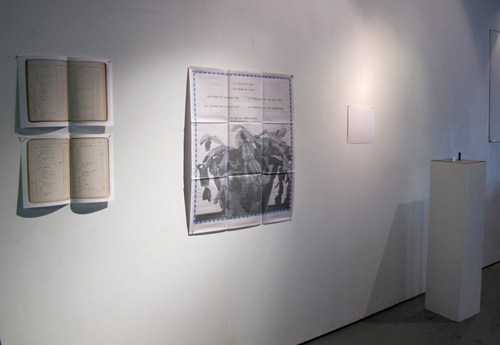 *Thanks to C.M. for contributing home-brewed ginger beer and beet kvass to the table!