What kind of weather report would you make?
SP Weather Station announces its first open call to participate in a limited edition + portfolio trade, the 2012 SP Weather Reports. This is the fifth year of an ongoing project.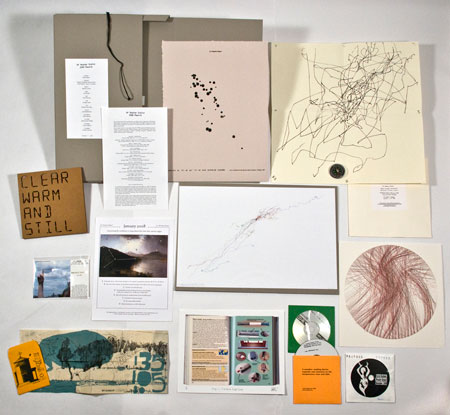 Twelve artists or artist groups, one per month for 2012, will be selected to each create a Weather Report. At the end of each month, we will send that month's data from our weather station in Long Island City to one of the participating artists. The data, as an Excel file, includes indoor/outdoor temperature, barometric pressure, humidity, wind speed, wind direction, and precipitation, recorded at 5 minute intervals.
Each month's weather interpreter is asked to contribute an edition (in a minimum size of 30 or more/unlimited) in response to that month's weather. This can be interpreted very loosely; the data doesn't have to manifest itself in the final project, and artists need not be based in NYC. If selected, you will be asked to produce the edition in compliance with our basic material/size requirements and deliver to SPWS by February 15, 2013. The edition should be something produced on the cheap (like a zine). Past artists have created prints, booklets, drawings, audio files, and video. Reports are archived online here.
The 30 sets of 12 works will be collated into 30 archival boxes by SPWS. Each participating artist receives one copy of the portfolio, while SPWS retains the remaining 18 to place in collections and exhibit. Please note: aside from receiving a copy of the completed portfolio, no production funds are available at this time (though we're applying for funding and hope to offer a modest stipend).
To date, SP Weather Reports have been exhibited in 7 exhibitions including 1 solo show; group exhibitions include Shifting Communities at the Bronx River Art Center in 2011, the 2009 Queens International at the Queens Museum of Art, the International Print Center New York and the University of Pennsylvania Meyerson Hall Gallery. Public collections include: Dennison University Doane Library, Otis College of Art & Design Library Artist Book Collection, School of the Art Institute of Chicago, Joan Flasch Artists' Book Collection, and the University of Utah Arts Library.
To apply:
– Please view past reports online at: http://spweatherstation.net/?page_id=6
– Send an email to spweatherstation (at) gmail.com with subject line "2012 APPLICATION"
– In three sentences or less, tell us why you would like to create a Weather Report in 2012. This can be a specific proposal for the edition or an idea about how your work relates to this project.
– List your top 3 choices for the months you would like be a Weather Reporter.
– Include 3 samples of past work (up to 3 images may be attached, maximum size 800 pixels in largest dimension, or link to video URL)
– Optional: attach a CV or link to an artist website.
DEADLINE: December 20, 2011