New Yorkers, where were you on Thursday, September 16th from 5-8 PM?
SP Weather Station instruments are up and running, despite reports of winds up to 100 mph in Brooklyn and Queens. The SPWS anemometer recorded wind gusts up to 14 mph (a relative high), raising some questions about our instrumentation (and about wind patterns in the Flux Factory neighborhood). Also, our precipitation gauge is broken. But barometric pressure visibly bottomed out that day. Too bad the water barometer isn't installed any more!
Maybe we'll learn more about tornados (microbursts? macrobursts? when SPWS Guest Lecturer Anton Seimon speaks at Flux Factory on October 17th @ 4pm (stay tuned).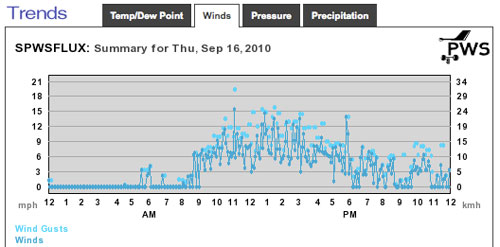 Images (and video) of the destruction are online everywhere, notably the "Extreme Weather" page on the Huffington Post site.
Here are some pictures of the wreckage on a recent expedition to the Queens Museum of Art.