Guest post from SPWS friend and 2010 Weather Interpreter Tim Dye:
On the banks of the Huangpu River, MeteoWorld showcases the weather community's technological accomplishments. It's the first-ever pavilion for the weather community and a really cool place if you're a weather and technology geek.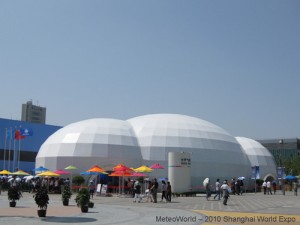 Its cloud-like roof mists, sending a cooling rain on visitors who spend over an hour waiting in Shanghai's scorching sun to enter this atmospheric wonder land. Upon entering the cloud, you're treated to meteorological accomplishments of the last 100 years – in weather soundings, radar, satellite, and television weather.
It begins with a cute 3-D movie of two cloud-droplet cartoon characters who venture through the water cycle. Next up is an 8-ft globe showing satellite movies taken from weather satellites. All sorts of weather instruments and pictures chronicle the past century of meteorological technical achievements. Last, you can participate in a television weather broadcast and become a TV forecaster for a minute.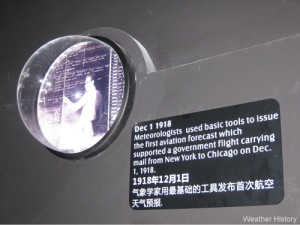 The 2010 Shanghai World Expo is like Disney's Epcot Center on steroids. It covers over 1,300 acres and expects over 70 million visitors. Expo pavilions showcase countries from North Korea to New Zealand and technology from Cisco to the Chinese Railroad Association.
MeteoWorld was sponsored by the Chinese Meteorological Association, the World Meteorological Association, and the Group on Earth Observations."