Birgit Rathsmann, artist and 2009 SPWS Weather Interpreter (December) is presenting work in a temporary space at 163 Eldridge.
Upcoming:
Sunday, February 28th, 2010, 4PM and 5PM
Fronts
A performance by Ryan McNamara + Birgit Rathsmann
A weather forecaster shaman seeds and unleashes a human storm.
Featuring Kim Brandt, Samara Davis, Jack Ferver, Miriam Katz and Bevin McNamara
163 Eldridge Street near Delancey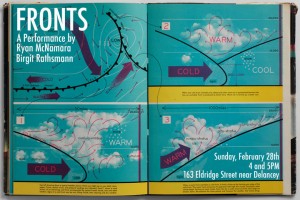 On February 20th, Birgit created a one-night cinema to screen HurSeas08.mov, a looped and altered version of an NOAA video that condenses satellite imagery from the 2008 hurricane season, combining it with various soundtracks (of music both commissioned and found). Presented with video introductions by Hollis Witherspoon impersonating Werner Herzog, Birgit's project has a peculiar blend of romanticism and irony.