Thanks to Lauren and Julie from AHN|VHS for a great opening and introduction to Philly. Many thanks also to all the participating artist-interpreters (Leah Beeferman, Carrie Dashow, Natalie Campbell, Susan G. Campbell, Mike Estabrook, Neil Freeman, Richard Garrison, Michael Geminder, Vandana Jain, Katarina Jerinic, Emily Larned, Daniel Larson, Bridget Lewis, Lize Mogel, Heidi Neilson, Mark Nystrom, Chris Petrone, Sarah Nicole Phillips, Luke Strosnider, Jing Yu and Liz Zanis) for their contributions!
More images of the installation are here: http://ahnvhs.com/artwork/913524_SP_Weather_Station_Weather_Reports.html 
(click on the lower right under "next" to scroll through…)
Besides the show, highlights of the visit were an introduction to the (free, fantastic, little-known treasure) Wagner Free Institute of Science by librarian Lynn Dorwaldt; not only did we tour the museum's collection of specimens and fossils, but we browsed the collection of 19th century meteorology books.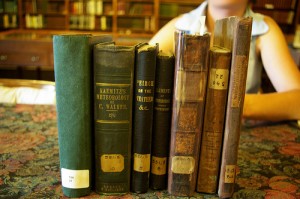 If you visit AHN|VHS (appointments are required, through August) ask to see the great (affordable!) selection of work in their flatfile; also check out the other great shows in the building (at Vox Populi (especially the great Reanimation Library installation), Tiger Strikes Asteroid (especially the wall with David Scanavino's pulp pieces on top of a wall papered by Ethan Greenbaum), etc etc etc.