Amidst an action-packed weekend SPWS met to design, build, and collate the portfolio boxes containing the 2012 SP Weather Reports.
This is the 5th portfolio we've published, and the process goes a little like this:
Step 1: (At the end of 2011, this time via an open call): Invite 12 artists (and collaborative teams), each of whom is assigned to create a weather report for one month of the coming year, in response to the data from our rooftop station in LIC.
Step 2:
Every month, send the designated Weather Interpreter a spreadsheet (it records temperature, pressure, humidity, wind speed/direction, and precipitation at 5 minute intervals) of the data from their month. What the artist does with the information at that point is undefined.
Step 3:
At the beginning of the following year, remind artists that we'll be collecting their homework – 30 copies (editions, multiples, series, examples) in all. Gather info on the forthcoming work and wait for it to arrive.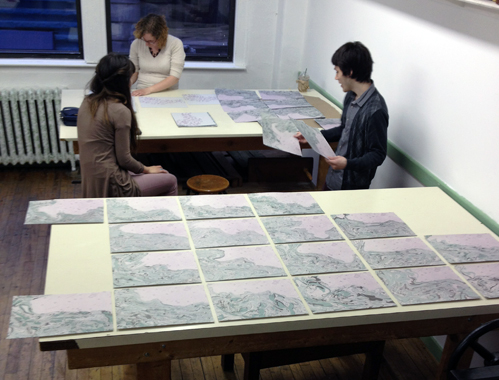 Above: Kyle Holland and Elizabeth Sheehan signing reports for October @ CBA (conveniently enough)
Step 4:
Sometime in the spring (say May 18th), design some kind of reasonably sized archival enclosure from gray cardboard, following the utilitarian format we fell into in 2008. Usually, we do this at the Center for Book Arts, NYC. Often the design and trickier handwork is Heidi's department. Natalie schleps supplies, operates the computer, and tries not to cut her finger off. Production mode requires division of labor.
Step 5 (ok maybe this is step 3.5-4.5):
Opening day! This is the best part: unwrapping all the thoughtfully packed works to see what everyone came up with. We're only going to give you a tiny peek.

Above: September report by Birds' Ear View Collective (Jon Barraclough and Alexandra Wolkowicz)
Step 6: Once all the boxes are built, collate editions into their respective boxes.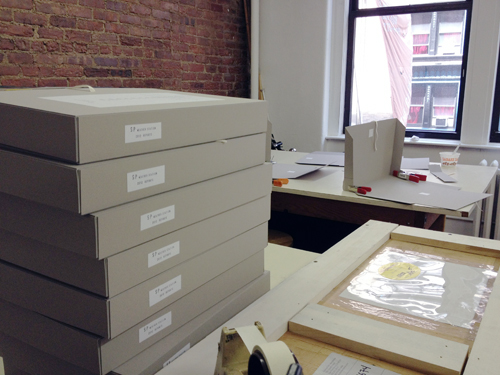 Step 6.5: Whew.
Step 7: (Almost there) Once everything is received and in place, pack and send off editions #1-#12 to the participating artists, and start trying to find homes for the remaining editions with libraries and collections.
The 2012 SP Weather Reports includes work by: Rena Leinberger, Jesper Aabile, Beka Goedde, Roni Gross, Jordi Williams, Tara Cooper, Emily Bunker, Peter Jellitsch, Birds' Ear View Collective (Jon Barraclough and Alexandra Wolkowicz), Kyle Holland and Elizabeth Sheehan, Rachel L Cohn, Frej Meinild Larsen, Ebbe Dam Meinild, Laurids Sonne, and Paula McCartney. Stay tuned for information about release of the finished portfolio.