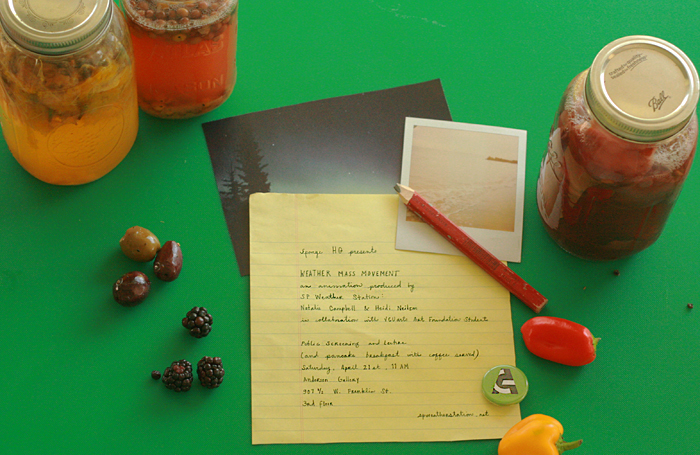 Sponge HQ presents:
WEATHER MASS MOVEMENT (Parts 1 & 2)
Public Screening and Lecture and Pancake Breakfast
with
SP Weather Station
Natalie Campbell & Heidi Neilson
in collaboration with VCUarts Art Foundation Students
Saturday April 21, 11AM
907 1/2 W. Franklin St.
Anderson Gallery, 3rd floor
During a workshop at VCUarts April 19-21, SP Weather Station will collaborate with students in Hope Ginsburg's Time Studio course to stage Weather Mass Movement, a collectively constructed time lapse animation of Hurricane Irene's progress along the Atlantic Coast from August 20-29, 2011. This is the first in a planned series of stop-motion videos illustrating changes in the sky that take place over time. Following the student workshops on April 19th, SP Weather Station will present photos and video of this work-in-progress and discusses past works by SPWS and its collaborators that find new ways to represent or reflect upon weather data and unseen natural forces.
Poster design by Riley Duncan
Reposted from Spongespace Blog, thanks Hope!